Jeff Vargason

,

PhD

Associate Professor of Chemistry

Research Interests
Protein-nucleic acid interactions
Protein and nucleic acid structure determination
RNA silencing suppression mechanisms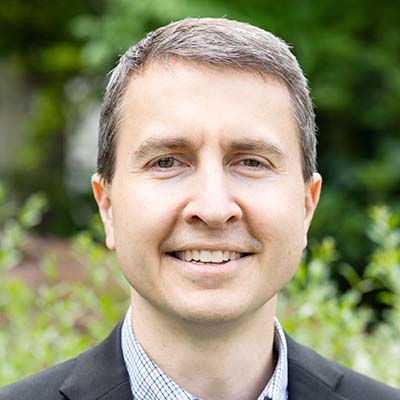 Jeff Vargason's background is in biochemistry, the chemistry of life. He enjoys learning about all aspects of the interdisciplinary nature of biochemistry, including the underlying physics and thermodynamics involved in the molecular storage and use of energy, the chemical mechanisms found in the reactions of metabolism, the macromolecular and cellular structures that orchestrate the processes of life, and the genetic molecules that serve as the conduits for the storage and transmission of hereditary information.
His passion for learning and studying biochemistry was fostered at a small, Christian institution similar to George Fox University. He valued the one-on-one interaction with each of his professors and their wisdom and knowledge when answering both his science and faith-based questions. It is this experience that he hopes to pass along to his students.
Academic Background
BS, Chemistry, Evangel University (1995)
PhD, Oregon State University (2002)
Postdoctoral fellow, National Institutes of Health (2002-2006)
Expertise and Research Interests
Vargason's research interests center around protein-nucleic acid interactions, protein and nucleic acid structure determination, and RNA silencing suppression mechanisms.
His overarching research interest focuses on understanding the mechanisms of viral RNA silencing suppression. His student research projects involve understanding the function of viral proteins by characterizing their three-dimensional structure and their affinity and specificity to bind RNA.
All of his research projects involve undergraduate research students who are directly and personally doing the experimentation. This opportunity provides the student with valuable hands-on experience which is increasingly valued by employers and graduate and professional schools. These research projects are primarily performed during the summer, when a student's full time can be focused on the topic to be studied. 
Primary Teaching Responsibilities
CHEM 211/L - General Chemistry I and Laboratory
CHEM 341/L - Biochemistry I and Laboratory
CHEM 342/L - Biochemistry II and Laboratory
CHEM 152/L - General, Organic, and Biochemistry II and Laboratory