John M. Schmitt

,

PhD

Director, School of Natural Sciences

Professor of Biology

Research Interests
Cell growth, survival and oncogenesis (cancer)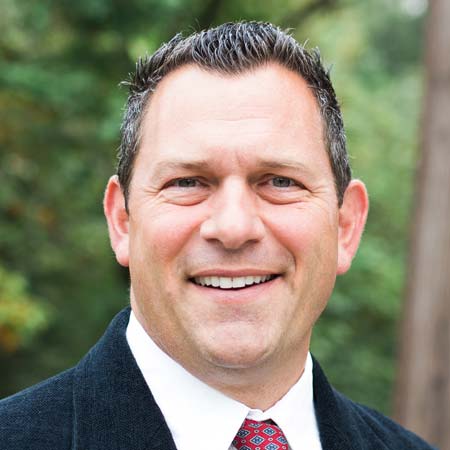 John Schmitt joined the Department of Biology and Chemistry as an assistant professor in 2005 and currently serves as director of the School of Natural Sciences and the Holman Professor of Biology within the department.
People are his passion, and he loves to help others learn by sharing his life through teaching, advising and research. As a biologist, his teaching goals are primarily designed to educate students' working knowledge and appreciation of the natural world. Biology and all of its intricacies enable him to use various techniques to create simple and powerful analogies students can understand within the classroom.
Good teaching takes place in all facets of life, and he has been blessed to be part of the George Fox community, its students and our alumni. He loves biology and enjoys conducting original scholarly research that includes undergraduate students, as well as designing experiences to allow students exposure to disciplines of biology outside the walls of George Fox.
The mission statement for his research laboratory is, "To better understand God's creation and ourselves and to make discoveries that advance biology and improve human health."
Academic Background
BS, Biology, Pacific University (1995)
PhD, Cell & Developmental Biology, Oregon Health Sciences University [OHSU] (2002)
Postdoctoral Fellowship, Vollum Institute at OHSU, with Dr. Tom Soderling (2002-05)
Expertise and Research Interests
Schmitt's research focuses on the cellular, biochemical and molecular events that control and regulate cell growth, survival and oncogenesis (cancer). Cancer is the second-leading cause of non-infectious deaths worldwide. The current goals of the cancer research field are to develop treatments that are highly selective and specific for their target tumor cells.
Identifying specific hormones, genes and cellular proteins that may be altered in various cancers is an area of intensive investigation within his laboratory. Several of the biochemical and molecular pathways that have been implicated in cancer and are investigated in his laboratory include the Calcium/Calmodulin-dependent protein kinases (CaM Kinases), the extracellular-regulated protein kinase (ERK), and the survival enzyme, AKT among others. We have presented and published on the molecular mechanisms that may contribute to the regulation of these signaling pathways inside cancer cells (breast, prostate and brain).
He is currently Principal Investigator (P.I.) on a grant that he received from the M.J. Murdock Charitable Trust. The grant is designed to evaluate the ability of the hormone vitamin D (naturally produced in the liver) to block cancer cell growth. In particular, we have focused on the ability of vitamin D to blocked estrogen-stimulated breast cancer cell growth. The grant has provided and will continue to provide significant financial support for research students, numerous supplies, and key research equipment and instrumentation.
Current Projects
Current projects in the lab include:
Examining the signaling mechanisms used by Estrogen to activate CaM Kinases and breast cancer cell growth. Similarity, the lab is also evaluating the ability of certain compounds and hormones to inhibit CaM Kinase activity, gene expression and cancer growth.
The laboratory is also evaluating how the hormones vitamin D and testosterone regulate the survival of prostate cancer cells.
The examination of bone cell growth and differentiation as a result of hormone, calcium and CaM Kinase signaling is an area of investigation.
Primary Teaching Responsibilities
BIOL 211 – General Biology
BIOL 370 – Microbiology
BIOL 410 – Molecular Biology
BIOL 420 – Cell Biology
Select Research Bibliography
Schmitt, J.M., Magill, J., Ankeny, A., Geck, R., Milligan, J., McFarland, H., Rice, E.; "Estrogen Activation of Transcription is block by Vitamin D in MCF-7 Cells", (manuscript in preparation).
Schmitt, J.M., Smith, S., Hart, B., Fletcher, L.; "CaM Kinase Control of AKT and LNCaP Cell Survival", J. Cell. Biochem., 113:5, 2012: DOI 10.1002/jcb.24020, Dec., 2011.
Schmitt, J.M., Abell, E., Wagner, A., Davare, M.; "ERK Activation and Cell Growth Require CaM Kinases in MCF-7 Breast Cancer Cells", Mol. Cell Biochem., 335(1); 155-171, 2010; DOI 10.1007/s11010-009-0252-9, 2009.
Outside the Classroom
Schmitt is a native Oregonian with many roots in the Pacific Northwest. He loves living in the Willamette Valley and the Newberg community. He and his wife are blessed to have two wonderful daughters who both enjoy playing soccer, piano and reading books.
As a family the Schmitts like to play board and card games, ride their ATV, watch movies, go fishing and surfing, and relax in the coastal town of Pacific City. John's wife is a physician, and we also enjoy landscaping and gardening at our country home in the Newberg area.