President's Speaker Series 2019-20
President Robin Baker is hosting a series of speakers for the 2019-20 academic year, and he invites you to join him at the sessions. All are free of charge and open to the public.
For more information on the series, contact Missy Terry, chief of staff in the president's office, at 503-554-2101.
Rev. Sunggu Yang, PhD
Professor, George Fox University
"King's Speech: Preaching Reconciliation in a World of Violence and Chasm"
Thursday, Feb. 20, 7 p.m.
Hoover 105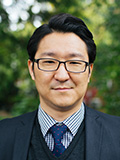 Sunggu Yang joined George Fox's College of Christian Studies in 2017 as an assistant professor of Christian ministries. Before his arrival, Yang served as the Louisville Institute's Post-Doctoral Teaching Fellow at Wake Forest University School of Divinity, where he taught courses ranging from homiletics and worship to prophetic ministry. One of his innovative courses was "Film & Preaching: The Gospel According to Hollywood."
Yang is the author of two books, King's Speech: Preaching Reconciliation in a World of Violence and Chasm (2019) and Evangelical Pilgrims from the East: Faith Fundamentals of Korean American Protestant Diasporas (2016), and two books that are in progress, Picasso and Preaching: An Aesthetic Homiletic for the 21st Century and Sacred Waters: Pastoral Essays for Aspiring Preachers.
Ordained by the Presbyterian Church (U.S.A.), Yang has preached at various venues around the nation. He holds a PhD in religion from Vanderbilt University (2015), a master's degree in liturgical studies from Yale Divinity School (2010), an MDiv from the Candler School of Theology at Emory University (2009), and a bachelor's degree in theology from the College of Theology at Yonsei University in Seoul, South Korea. He lives in Sherwood with his wife, Rebecca Jeong, and their daughter, Stella.
Scott Finnie, PhD
Professor, Eastern Washington University
"Reflections on Dr. King and the Beloved Community"
Thursday, Oct. 31, 4:15 p.m.
Canyon Commons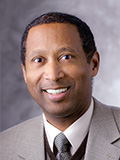 Scott Finnie, PhD, has been a faculty member in Eastern Washington University's Africana Education Program and history department since 1992 and currently serves as director of Africana studies and as director of race and cultural studies. He has made more than 40 presentations worldwide in the last 10 years, including visits to Oxford in England, Mexico City, Atlanta, San Francisco, San Diego, Sao Paulo, and Honolulu. His presentations have covered themes surrounding civil rights, affirmative action, servant leadership, diversity and cross-cultural communication, the American criminal justice system, and faculty hiring in higher education.
In addition, he has published a dozen articles in numerous publications, including The National Social Science Journal, Investigating Diversity: Race, Ethnicity and Beyond, The Oxford Round Table Journal, The Council on Undergraduate Research Quarterly, and The International Journal of Servant Leadership.
Pat Gelsinger
CEO, VMware
Wednesday, Oct. 9, 7 p.m.
Bauman Auditorium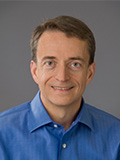 Pat Gelsinger, CEO of VMware, spoke on balancing work, family and faith. VMware is a global leader in cloud infrastructure and digital workspace technology, and a recent article on VMware in Forbes described the company this way: "It's not an exaggeration to say that VMware stands at the center of the IT universe. The company's software touches nearly every element of modern IT architecture." VMware employs more than 24,000 employees and revenue for fiscal 2018 was nearly $9 billion.
Gelsinger brings almost 40 years of technology and leadership experience. Since coming to VMware in 2012, he has doubled the size of VMware, which software powers the world's complex digital infrastructure. The company's compute, cloud, mobility, networking, and security offerings provide a dynamic and efficient digital foundation to over 500,000 customers globally, aided by an ecosystem of 75,000 partners. Based on his efforts, Fortune Magazine named Gelsinger one of its top "Businesspersons of the Year" in 2018.
Prior to joining VMware, Gelsinger was president and chief operating officer of EMC's Infrastructure and Products Group. There, he was responsible for all of EMC's products – including storage, data analytics, security, management and data protection products, analytics, and the large majority of EMC's revenue.