Erin Johnson

,

MSW

Director, Bachelor of Social Work Program

Associate Professor of Social Work

Areas of Expertise
Trauma-Informed Practice
Play Therapy
Family Therapy
Collaborative Problem Solving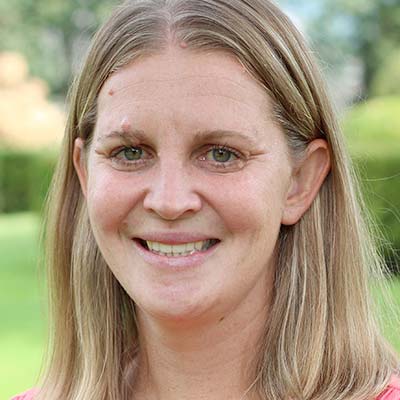 Education and Professional Experience
BSW, George Fox University (2001)
MSW, Salem State College (2004)
Upon graduation from George Fox, I moved to Boston, where I began my social work career working with children and families providing intensive in-home services revolving around mental health needs and child welfare involvement. After working for two years, I returned to school and earned my MSW from Salem State University in Salem, Massachusetts. After completing graduation, I returned to the field and worked for the next 10 years as a play therapist, parent educator, and program director for children and families.
My focus has always been on walking alongside children and families as they work to create change in their lives where abuse and trauma have created vulnerabilities. I believe that as we give children a space to play through their experiences and process through play, change occurs to provide children with a new perspective and understanding of love, safety, and positive relationships. Over the past five years I have focused my training and education development on trauma-informed play therapy for children who have experienced sexual and physical abuse, neglect, and family trauma.
In 2009, I began teaching as an adjunct professor in the social work department with a focus on working with students in field seminar courses as well as Social Work Foundation, which focuses on social work theory. I moved to full-time teaching in 2013 with a deep desire to connect more fully with students and be more present in the social work program.
In 2014, I moved into the role of the BSW field director, and in 2019 into the role of the BSW program director. I enjoy teaching and working with students, as it allows me to further understand how God calls each of us to love and care for the most vulnerable.
Primary Teaching Responsibilities
SWRK 180 – Introduction to Social Work
SWRK 391 – Practice I – Micro Level Practice Skills
SWRK 420 – Social Work and Diverse Populations
SWRK 485 – Trauma and Recovery
SWRK 490 – Senior Seminar
Outside the Classroom
I enjoy many things outside of the classroom, and most are centered around spending time with my family. My husband, Jamie Johnson, also works at George Fox University, and we enjoy spending time together and with our three teenage children. We spend a lot of time outside playing, coaching, and watching sports together (soccer, dance and baseball), hiking, and exploring. When we find ourselves inside due to the cold rain, we spend our time talking together, playing board games, reading our favorite books, and watching sports and movies on TV. We are involved with the children's ministry at our church, where we teach Sunday school.
Outside of Newberg I deeply love the sunny beach of California, where I grew up, and spending time with our family. Being in water, whether it be the ocean, a lake, a river, or a pool, is one of my favorite places to be. We also enjoy the Oregon Coast and hiking all around the area. I love to be with people, and spending time with my family and friends brings me the greatest joy. If I ever feel the need to slip away for a moment by myself, I usually read, watch a movie, or enjoy a walk outside with our two golden retrievers, Rosie and Mango.