Tuition and Scholarships
2019-20 Academic Year Doctor of Psychology (PsyD) Program Costs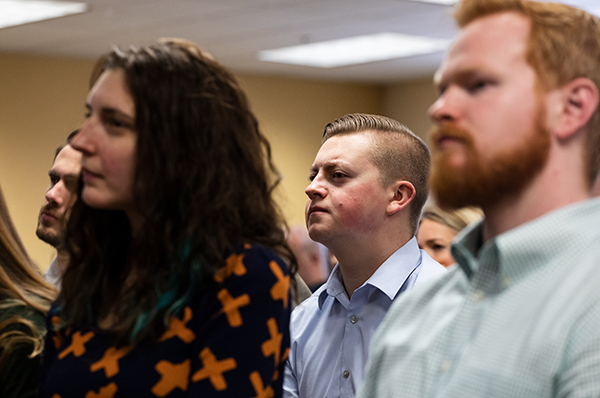 Tuition
As of the 2019-20 academic year, tuition for the PsyD program is approximately $122,302. The cost per credit is $950. For a more complete breakdown of tuition, fees, and other costs, please reference the table below.
| | |
| --- | --- |
| Year 1 (38 credits) | $36,100 |
| Year 2 (32 credits) | $30,400 |
| Year 3 (29 credits) | $27,550 |
| Year 4 (18 credits) | $17,100 |
| Electives (8 credits, spread throughout the first four years) | $7,600 |
| Year 5 (Internship fees) | $3,552 |
| Total Tuition | $122,302 |
The number of credits decreases during the third and fourth years of the program to leave students time to work on their dissertation and to arrange internship placement.
Other Program Fees and Costs
Additional detailed information about PsyD program costs and fees is available in the Student Accounts section of the website.
Stipend Positions
The Graduate School of Clinical Psychology has many opportunities for graduate and teaching assistantships, and funded clinical positions (supplemental practicum). 88% of our graduate students receive stipends in positions related to the their doctoral training (2018-19).
Scholarships
Austin Scholarship: Covers 50% of tuition 
NEW
Generously funded by the Austin Family Foundation, the Austin Scholarship covers 50% of the cost of tuition in the Doctor of Psychology program for two Spanish/English bilingual, bicultural students. This $60,000 scholarship will be disbursed over the course of four years. Recipients will be required to serve the local area for a minimum of four years after graduating. For more information, contact PsyD admissions counselor Ty Sohlman.
Primary Care Scholarship: $5,000 
NEW
Four students applying to the primary care track will be awarded a $5,000 scholarship. For more information, contact PsyD admissions counselor Ty Sohlman.
Diversity Scholarship: $1,000 to $5,000 per year
The goal of the Scholarship Program in the Graduate School of Clinical Psychology is to facilitate cultural/ethnic diversity in the student community and to encourage the provision of psychological services to underserved groups.
Our faculty award a limited number of scholarships each year to students admitted to the Graduate School of Clinical Psychology. Scholarship awards are given on an annual basis and range from $1,000 to $5,000 per year. Although awards are for one year, our intent is to provide financial support to qualified students throughout the four years of academic study (the internship year is excluded). Awards are renewable each year provided the qualified students maintain satisfactory academic and clinical progress. Students wishing to make an initial application for this award should complete this form. A re-application form can be found here.
It is expected that recipients will contribute to multicultural awareness on campus and/or provide services to diverse groups while enrolled in the program. Initial and continuing scholarship recipients are required to apply for an APA Minority Scholarship within three months of receiving the scholarship.
Richter Scholarship
The Paul K. Richter Memorial Fund and the Evalyn E.C. Richter Memorial Fund, administered by the Bank of America, have awarded the funds for this program to George Fox University. The Richter Scholars program enables undergraduate and graduate students to receive funding for independent research projects conducted with a faculty mentor.
Students can apply for the Richter Scholar program during their first or second year in the PsyD program. Richter grants are available to full-time graduate (8 hrs per semester) or undergraduate (12 hrs per semester) students at George Fox.
George Fox is one of only 11 universities in the Richter Scholars program, including Yale, Dartmouth, Cal Tech, and University of Chicago. To learn more, click here.
Contact Us
For questions about tuition and scholarships, please contact:
Ty Sohlman
Admissions Counselor
psyd@georgefox.edu
Phone: 503-554-6122