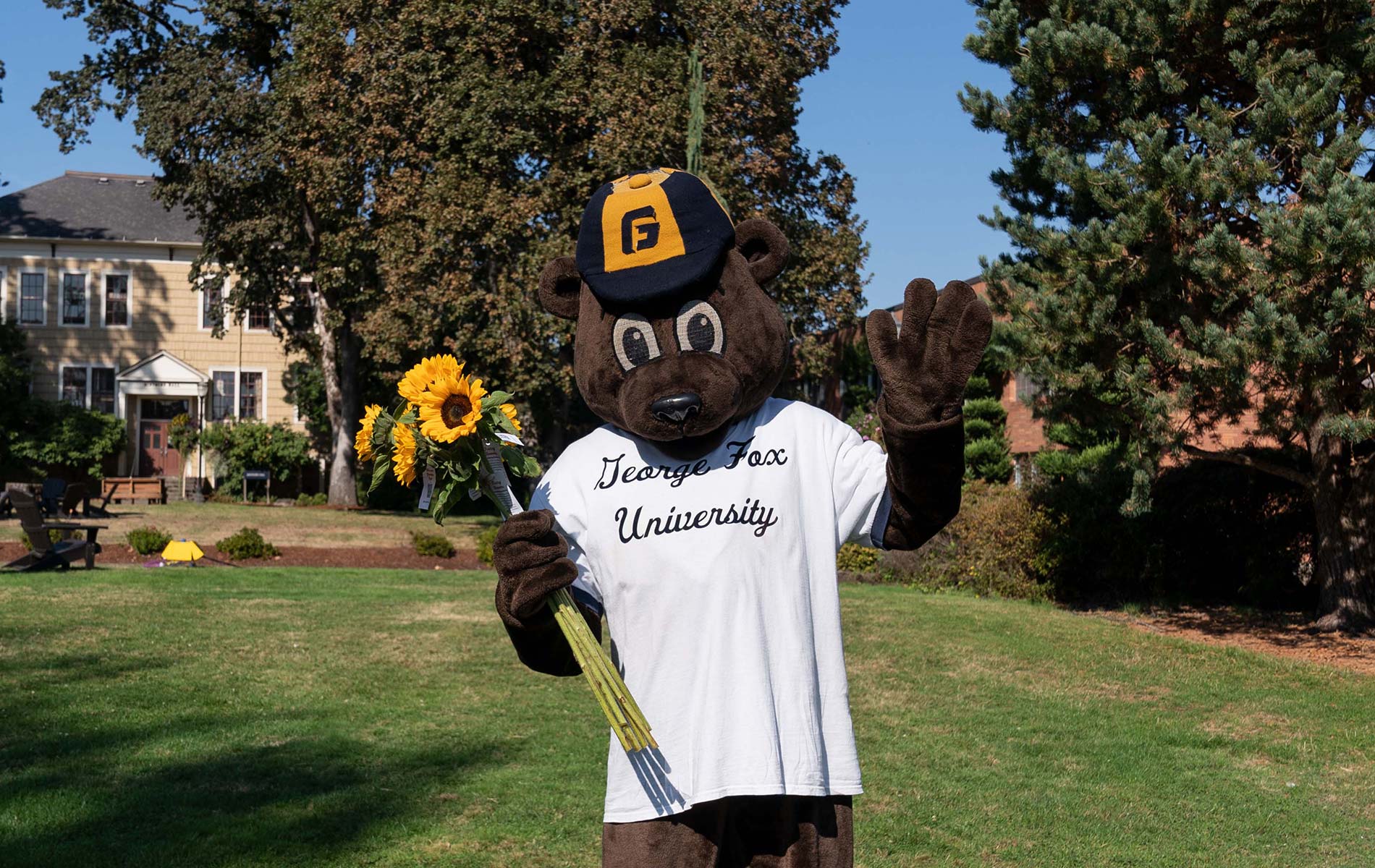 Homecoming
George Fox University
Sept. 28-30, 2023
REGISTER NOW for Homecoming 2023
It's three days of fun this year! Check out the details below and plan to join hundreds of alumni back on campus this fall to celebrate lifelong friendships and connections, lifelong learning, and this place that unites us all!
If you are a part of the class of 2013, 2003, 1993, or 1963-66 and want to be involved in planning your reunion, please email us now at alumni@georgefox.edu to find out how to make your reunion be a smashing success.
All registered guests will be entered into a raffle for an amazing, outstanding, over-the-top Bruin Swag pack! The drawing will be held during Bruinpalooza (must be present to win).
UPDATE: Children! Yes! They are welcome to join in the festivities. They are free. (Unless they are 14+-year-old teens who would wipe out a buffet of finger sandwiches and other delicious nibbles, then we ask that you register them, too!)
FOOTBALL TICKETS: Buy game day tickets here!
Call Alumni Relations at 503-554-2110 or email alumni@georgefox.edu if you have any questions.
Weekend Schedule
Thursday, Sept. 28, 2023

Homecoming Chapel

10:50 a.m.

Bauman Auditorium

Join us for chapel on campus and hear from the recipient of the 2023 Richard J. Foster Award in Spiritual Formation.

More information about the Richard J. Foster Award in Spiritual Formation 

Richard J. Foster Award Ceremony

7 p.m.

Canyon Commons

Join us 

as 

Richard J. Foster

 presents the 2023 award in his name to 

Joshua Choonmin Kang, who will then share an inspired keynote address. 

The Richard J. Foster Award in Spiritual Formation, first presented in 2022, recognizes those whose intellectual and practical work helps others come into an ongoing transformational relationship with Jesus Christ

. 

Sponsored by the School of Theology, Office of Spiritual Life, and Portland Seminary.

Cookie Reception

Canyon Commons

After the awards ceremony, join us for a reception honoring Joshua Choomin Kang. 

Friday, Sept. 29, 2023

Hadlock Student Center Access

6 a.m. - 10 p.m.

All alumni are welcome to access the Hadlock Student Center for the weekend, completely free!

Lunch in Canyon Commons

11:30 a.m. - 1 p.m.

Canyon Commons

Visit the beautiful Canyon Commons and see how far "cafeteria food" has come!

It's a delicious all-you-can-eat buffet lunch. Tickets may be purchased directly at the check-in booth at Canyon Commons. Credit card only. 

Tickets: $9.70 (adults); $8.20 (children)

Grandpa Roy's Friday Flowers

11:30 a.m.

Meet at the Centennial Tower

Join us in this beloved campus tradition to honor the impact and ministry of "Grandpa Roy" on campus. Roy Hiebert delivered flowers and friendship to four decades of George Fox students and community members. This event is for everyone! Maybe you've shared a meal or memory with Grandpa Roy or maybe you've never met him. Either way, we'll all come together in the spirit of Grandpa Roy. 

We'll gather around the Centennial Tower on the quad and hand out flowers to current George Fox students as they move about campus. 

Presidential Presentation

2 p.m.

Canyon Commons

 

Navigating the ChatGPT Revolution | Discussion with Dr. Robin Baker

Hear from university president, Dr. Robin Baker, about ChatGPT and how AI is changing the game in higher education. 

Reunion Receptions

Various times

Various locations

Reunited at last! Specific locations, start times, and events vary by class. Stay in the loop by updating your email here. We'll email you specific class details.

60-Year (Classes of 1963-66)
30-Year (Class of 1993)
20-Year (Class of 2003)
10-Year (Class of 2013)

Hall of Fame

7 p.m.

Join us for this traditional event honoring our outstanding athletic alumni. For more information, visit athletics.georgefox.edu.

Homecoming Concert

7:30 p.m.

Bauman Auditorium

Wrap up your evening with this jazz concert presented by faculty and friends. This show is a crowd-pleaser! See you there!

Saturday, Sept. 30, 2023

Hadlock Student Center Access

9 a.m. - 8 p.m.

All alumni are welcome to access the Hadlock Student Center for the weekend, completely free!

Pennington's Pickleball Tournament

10 a.m.

Hadlock Student Center

You don't want to miss this! The Class of 2013 is throwing out the challenge - show up and leave it all on the court.

Everyone's favorite Bruin, Pennington, will be there, and Hadlock staff will host this pickleball tournament of champions. You could take home exclusive champion gear or the ultimate trophy!

Hadlock staff will be offering an Intro to Pickleball workshop at 9:30 a.m. for those who would like to learn the basics before jumping into the tournament.

Classic Bruins Brunch

10 a.m. - Noon

The tradition continues! George Fox alumni from 1942 to 1973 are invited to this special Classic Bruins luncheon. Come share memories and laughs with friends from the past, and make new friends, too!

Bruinpalooza

1:30-3:30 p.m.

Join us for an action-packed pregame event for all! Bring the entire family for this campus experience.

 

Football Game

4 p.m.

Enjoy the football game with Bruin fans. Come already decked out in your best Bruin attire, or get game-ready by stopping by the Alumni Association booth at the Bruinpalooza to grab your beads and cheer gear, while supplies last. 
Questions?