At the center of George Fox's politics program is the conviction that the Christian faith is relevant to all of life, including politics. As such, as a student in our concentration you'll be encouraged to consider how faith relates to political science and, in turn, how we conduct ourselves, whatever our chosen profession.
The politics concentration within our history major provides a solid liberal arts education that will equip you for public service, careers in government and politics, conflict resolution, graduate school, law school, and positions in private or nonprofit businesses that require a knowledge of politics.
We also give you options, allowing you to emphasize particular fields, such as American institutions, law, peace studies, political theory, public policy, international relations, and comparative government.
You will find graduates of our program in law school, graduate school, public service, business, and advocacy.
Learning Outcomes and Objectives
Our learning objectives as a program are the following:
Provide you with an excellent grasp of American politics, international relations, comparative politics, political theory, and peace studies
Give you the opportunity to think in a mature manner about the relationship of faith and politics
Train you to think critically and analyze data
Emphasize the importance of writing and communicating well
Interdisciplinary Study
The study of politics pairs well with other programs, including history, international studies, literature, and biblical studies, among others. You may choose to major in one of these disciplines and add a concentration in politics to create an interdisciplinary course of study.
The politics faculty is available to advise you as you develop a course plan best suited to your needs and interests.
Pre-Law Program
The best preparation for law school emphasizes a broad liberal arts education at the undergraduate level. As a student in our pre-law program, you will work with our pre-law advisor to devise a course of study that prepares you to understand complex real-world problems from as many perspectives as possible.
Once you choose your major, you can round out your studies with electives and general education options stressing writing and oral communication skills, logical and critical thinking, close reading of difficult material, and deeper understanding of society and culture.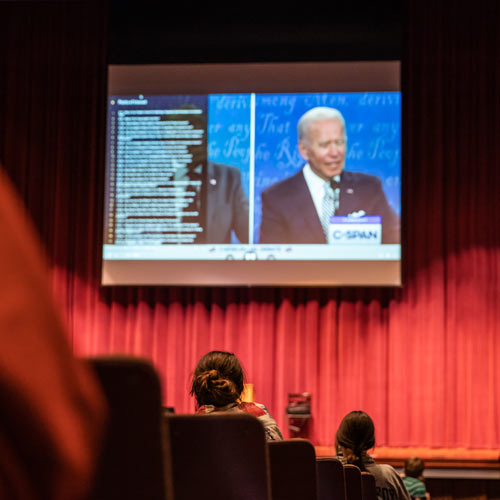 Civility Project
Out of concern about the polarization and alienation in political culture at every level (national, state and local), the George Fox Civility Project was launched during the 2020-21 academic year. It sponsors events, publishes a newsletter, and maintains a website with information about civility. The project will return for the 2022-23 school year.
The project is overseen by Professor Emeritus Ron Mock. To learn more, contact Mock at civility@georgefox.edu.