Music is for everyone at George Fox University.
Whether you plan to pursue a bachelor's degree in music, minor in music, or simply join one of our vocal or instrumental ensembles, you will find a place to explore your love of music here. You are invited to participate regardless of your field of study. In fact, about three out of five students enrolled in ensembles at George Fox are not music majors or minors.
Music Degree Options
Our music degree has a shared general core of classes, ensembles and lessons, and we offer three concentrations – in music industry, worship, and liberal studies – that allow you to customize your degree based on your area of interest.
Industry
In the industry concentration, you will take courses in lighting and sound, recording, music theory, lessons, and overviews of global, pop, jazz, and classical music literature. You'll also have opportunities to network, perform, record, produce, compose, and teach while in school, as well as have the option to spend a semester in Nashville, Tennessee, at the Contemporary Music Center.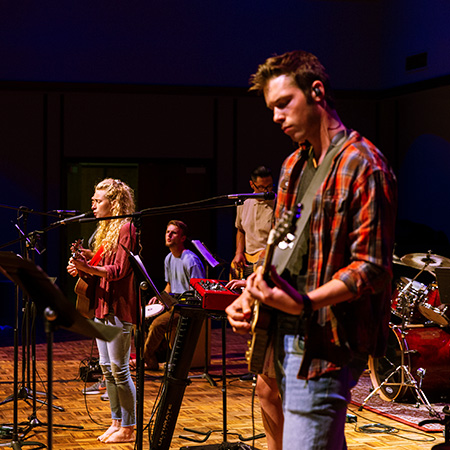 Worship Arts
The worship arts concentration is intended for students who feel the call of God to go into music ministry. You will take a broad mix of courses, including classical and popular musical styles, and become exposed to current trends in music and theatre technology. An internship as part of your course of study will provide you with valuable experience in preparation for employment in ministry.
Liberal Arts
This concentration is the most flexible of all. You will be prepared for any number of professional careers, such as teaching, composing, performing, or working as a freelance musician. It will also prepare you for graduate school in music, or to enroll in George Fox's highly successful Master of Arts in Teaching (MAT) program, where you can earn your Oregon K-12 music teaching credential.
Ensembles
Love to sing or play an instrument? Consider joining one of our ensembles, which include our Concert Choir, Worship Team, Chamber Singers, and Master Chorus for vocalists, and Symphonic Band, Jazz Band, and Symphony Orchestra for instrumentalists.
We also offer a flexible instrumentation ensemble to give you extra performance opportunities, including Keyboard Ensemble, String Quartet, Flute Choir, Percussion Ensemble, Brass Quintet, and others.
And, for those interested in improving their skills, we offer applied music lessons on campus.
Upcoming Performances
Our music ensembles perform throughout the academic year. Visit our concert schedule page to view upcoming performances.
National Accreditation
As a nationally recognized Christian university, George Fox's music curriculum is Christ-centered as well as academically rigorous. The music program is fully accredited by the National Association of Schools of Music (NASM) through a peer-reviewed accreditation process and has been recognized by the National Association for Music Educators (NAfME).
Contemporary Music Center
As a music industry major, you have the opportunity to spend a semester in Nashville, Tennessee, at the Contemporary Music Center. The program is designed for students who feel called to a career in the music industry as performers, executives or promoters. The principal goal is to help Christians impact the secular music industry, although the program would benefit those who are interested in Christian music as well.
Courses include Faith, Music, and Culture; Inside the Music Industry; and specialized courses in two tracks for performers and music managers.