Woolman Peacemaking Forum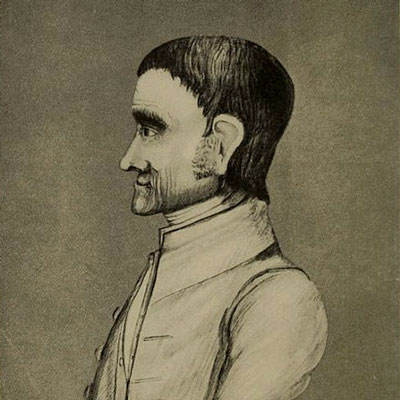 May we look upon our treasures, and the furniture of our houses, and the garments in which we array ourselves, and try whether the seeds of war have any nourishment in these possessions or not.
The John Woolman Peacemaking Forum was established in 1986 as a way of articulating peacemaking issues to the George Fox University community. Its purpose is threefold: to provide a forum for those involved in peacemaking to offer insights and challenges; to inspire and equip us to invest our energies in the diligent pursuit of peace; and to enrich the ongoing work of the Center for Peace and Justice, both through contact with leading peacemakers and through greater public awareness of our programs.
The forum is named for John Woolman, an 18th-century American Quaker who called attention to the evils of slavery and challenged fellow Quakers to abandon the practice. Woolman also worked for fairer treatment of First Nations Indigenous Americans. In his journal, he recorded his developing opposition to war and other forms of violence and his struggles to purify his lifestyle from anything that might encourage or promote violence. His journal has become a devotional classic for its sensitive expression of the lifelong development of one person' s conscience toward peace.
Recent Woolman Peacemaking Forum Information
2019 - Promised Land; Film screening and discussion

2018 - "Martin Luther King, Jr: The Inner Life & Global Vision"

2017 - "Peace: Personal & Global"

2016 - "Fostering Peace & Justice Through the Lens of Service"

2015 - "Past, Present and Future: Promoting Peace & Justice at George Fox University and Beyond"
2014 - "People of Peace: Effective Faith-Rooted Advocacy"
2013 - "Shalom – Holistic Peace for a Fragmented World"
2012 - "New Neighbor: An Invitation to Join Beloved Community"
2011 - "Reconciling All Things"
2010 - "

Are We Achieving Racial Justice and Reconciliation?"
Previous Woolman Forum Speakers
Previous speakers have included men and women with a wide variety of strengths and experiences. Among the previous speakers are:
Stuart Willcuts

Dr. Clayborne Carson

Alexia Salvatierra
Lisa Sharon Harper
Leroy Barber
Emmanuel Katongole
John Perkins
Naim Ateek
David Augsburger
Landrum Bolling
Tony Campolo
Mark Hatfield
John Paul Lederach
Lisa Schirch
Ron Sider
Walter Wink
Tom Getman
Chip Zimmer
Elise Boulding
David Rawson
Tom & Christine Sine
Jim Wallis
Ron Kraybill
The Woolman Peacemaking Award is given annually to someone in the region who exemplifies peacemaking.
Beyond the Woolman Forum, peacemaking is featured at George Fox through multiple means that include: chapels, classes, student groups, various campus media and through special collections of peacemaking books, journals, videos, and other resources kept at the Center for Peace and Justice and in the university library.
Publications by John Woolman
Listed below is a collection of books and other publications by John Woolman, which includes his Journal, the only piece of Colonial American literature continuously in print since publication.
(Originally Published in 1774 by Cruckshank)
John Greenleaf Whittier introduction ed. Published 1871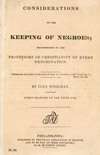 Some Considerations on the Keeping of Negroes
First part, published in 1754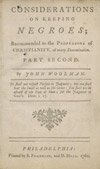 Considerations on Keeping Negroes, Part Second
Published in 1762 (by Benjamin Franklin)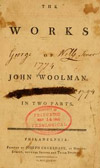 The Works of John Woolman in Two Parts
(includes the Journal of John Woolman)
Published in 1774 Joseph Cruckshank
John Woolman
from Some Considerations on the Keeping of Negroes
There is a principle which is pure, placed in the human mind; which in different places and ages hath had different names. It is, however, pure, and proceeds from God. It is deep and inward, confined to no forms of religion nor excluded from any, where the heart stands in perfect sincerity. In whomsoever this takes root and grows, of what nation soever, they become brethren in the best sense of the expression.