Zach McNay

,

MLIS

Research & Instruction Librarian

Research Help Areas
Biochemistry, Clinical Psychology, Kinesiology, Nursing, Physical Therapy, Physician Assistant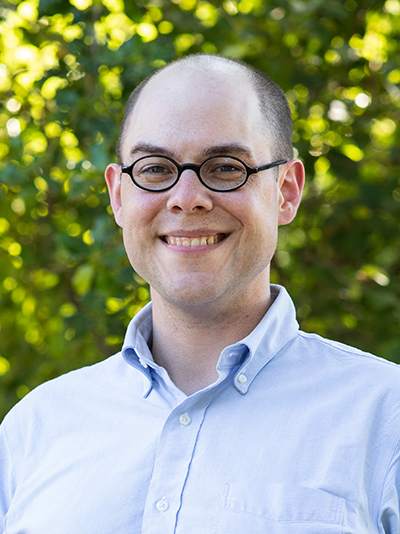 I started working at George Fox in the fall of 2022, but also grew up in Newberg. After a 15-year sojourn to Washington state, it's good to be back in Oregon, and my hometown!
What do you do at Fox?
My role is research and instruction librarian. I'm here to help you use the library for all it's worth, whether that's by offering instruction during a class session, in one-on-one research consultations, or by ordering materials to support your curriculum. Specifically, I'm the liaison librarian for the health sciences (biochemistry, clinical psychology, kinesiology, nursing, physical therapy, and physician assistant).
Education & Experience
MLIS, Library & Information Science, University of Washington
BA, Philosophy, Classics, Seattle Pacific University
I spent the last nine years at the Seattle Pacific University library as a supervisor behind the front desk and, since 2018, I worked as a reference librarian and writing tutor as well.
I've also worked at a bakery, theatre, record store and video rental store (as one of its last employees … RIP).
Expertise & Research Interests
At work, I get the most enjoyment from listening well, and helping students articulate their questions and take next steps in their research. I hope to contribute to the George Fox community by bringing a personal touch to information literacy.
What is something you're grateful for?
I'm thankful to begin my career as a librarian at an institution like George Fox, where we understand our academic work, and the pursuit of truth, in the context of our Christian faith.
Beyond the Library
I'm a big music nerd and collector of all sorts of outdated media formats (vinyl records, cassettes, CDs, DVDs, pre-internet video games, etc.). One of my favorite music genres to collect is (no joke) "library music."