Dustin Kelley

,

MS/LIS

Research & Instruction Librarian

University Archivist

Research Help Areas
Art & Design, Cinematic Arts, Communication, Engineering, English, History, Honors Program, Music, Politics, Sociology, Spanish, Theatre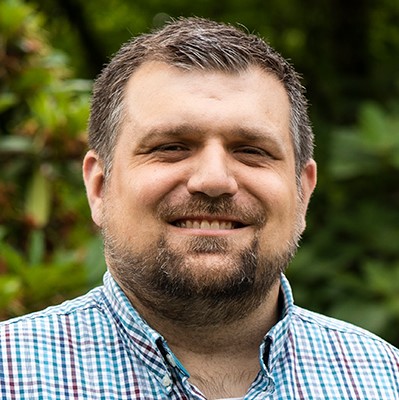 Hello there! I'm delighted to join the team here at George Fox, brand-new as of July 1, 2022. Come say hello, I'm eager to get acquainted with you!
What do you do at Fox?
As a research and instruction librarian, I see my purpose as being a teammate in your research goals. Whether you are a faculty member or student, I am eager to support you through reference consultations, instruction sessions, the ordering of materials, etc.
Part of my duties also include working with archives, continuing to preserve institutional history and providing access to our collections.
Education & Experience
MS/LIS, University of Illinois at Urbana-Champaign
BA, History and Religion, Walla Walla University

I come from Lewis & Clark College, where I spent the previous two and a half years, first as a research and instruction librarian and later as archives librarian. My library experience is entirely within higher education, including both public and private institutions, with roles ranging from reference to archives to ILL.
Prior to becoming a librarian, I spent six years as a middle and high school history teacher. Other favorite jobs include eight years of summer camp and serving as editor-in-chief for my undergraduate student newspaper.
Expertise & Research Interests
My primary liaison responsibilities are for art & design, cinematic arts, communication, engineering, English, history, the George Fox Honors Program, music, politics, sociology, Spanish and theatre.

I am passionate about accessibility and instructional design. My K-12 teaching experience comes with me in desiring to create environments with the best pedagogical methods to meet the diverse learning styles of students. 
Beyond the Library
I enjoy spending my evenings and weekends with my wife, KaraLeigh, and my two dogs (Felix the Great Dane and Griffey the Saint Bernard mix). My favorite hobbies include baseball, board games and reading. I'm also part of the leadership of a church group, where I work most closely with small-group facilitation and curriculum selection/creation.