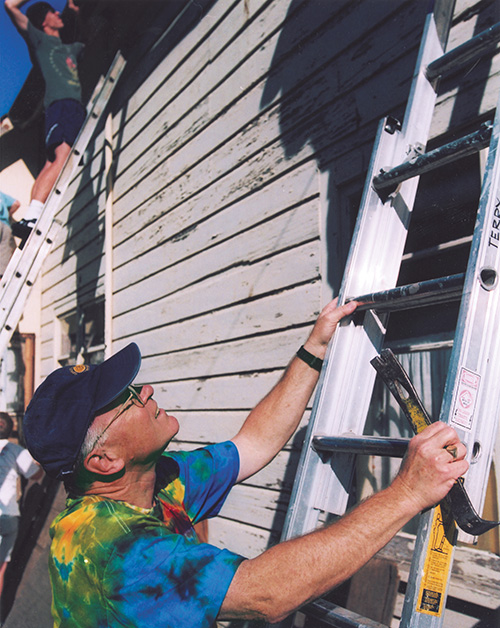 Former George Fox University President David Brandt says he made a miscalculation when he started Serve Day in 1999. "I was convinced that students and employees were the main beneficiaries of the program," he says. "But it didn't take long to find that recipients felt they were the huge beneficiaries."
Eighteen Serve Days later, it's still uncertain who benefits the most – those serving or the individuals and organizations being served – and that, perhaps, is what makes the annual event held each September so meaningful. This fall more than 2,000 students, faculty and staff assisted nonprofits, public agencies, churches, retirement homes and individuals at 108 sites in five surrounding counties. They constructed, painted, weeded, cleaned and visited with seniors as the campus closed its doors for the day.
Serve Day, Brandt says, "is a visible project that reflects the character" of George Fox University. "Given the value it brings to the community, the good will it generates and the relatively low cost, I am surprised others haven't tried to emulate it."
Although Brandt – the university's 11th president, from 1998-2007 – is noted as being the founder, he credits the real inspiration for Serve Day to two vice presidents during the 1998-99 school year: VP of Enrollment Management Andrea Cook and VP of Student Life Eileen Hulme, who together proposed the idea to him.
"I believe the real genius of the proposal was the inclusivity of the plan," he says. "This was not only for students to learn, but for all of us to show the importance of service in the life of Christians. I agreed this was a great idea and should be implemented as soon as feasible."
Serve Day started the next fall. According to Campus Compact, a national coalition that promotes community service in higher education, it was the first instance of an entire university shutting down for a day for such activity.
In his opening comments on that first Serve Day, Brandt said, "It's crucial that we practice what we preach. It's the way of Jesus."
Nearly two decades later, the act of "practicing what we preach" has become ingrained in university culture.
"It's amazing this project has continued so long," says a pleased Brandt, who now lives in Mechanicsburg, Pennsylvania. "It's relatively easy to generate enthusiasm for a few years, but to do it for 18 years tells me this is more than a fad."
Memorable Moment: Brandt Begins Serve Day Tradition