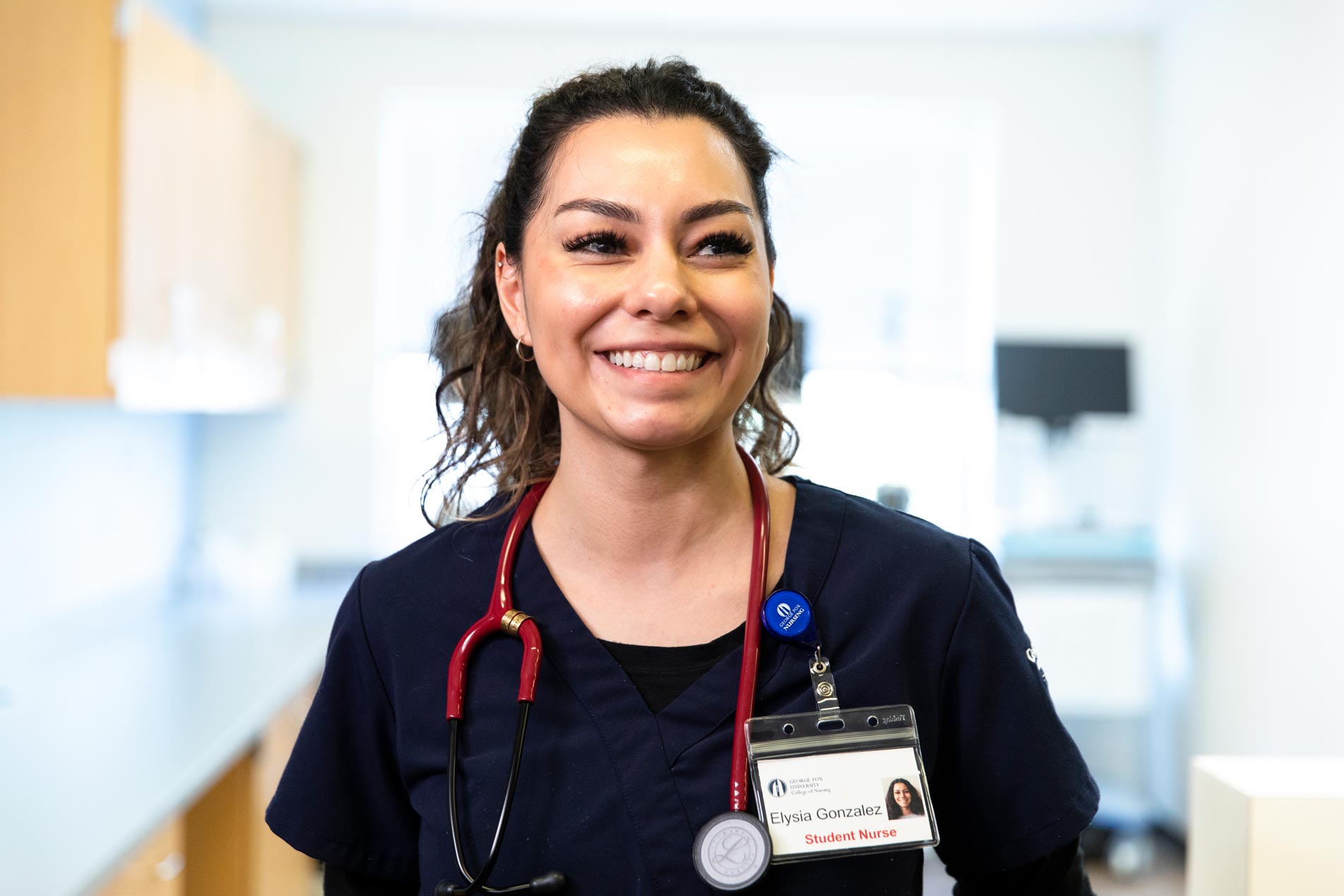 Finding Her Voice
Whether it's providing health education for girls in Kenya or advocating for marginalized patients back home, Elysia Gonzalez is able to give others a voice – because she found hers By Kimberly Felton
"I never thought I would be able to go to college, because I didn't finish high school."
Elysia Gonzalez dropped out of high school when she was 16. Yet 10 years later, she was a nursing student at George Fox University, looking into the dark eyes of hundreds of young girls listening intently as she taught in schools on the slopes of Mt. Elgon in Kenya.
Education gives these girls the hope of changing their lives, of having a voice. Gonzalez, as she teaches and encourages them, is both the antithesis of this hope and the personification of it. She dropped out of school – but she keeps learning and she sees how hard things helped create who she is today.
Invisible
Gonzalez knows what it's like to blend into the edges, hoping to be invisible. She knows what it's like to be lonely.
A Latina in a majority-white school in Keizer, Oregon, she was hard-working but quiet at school, with a frizzy cloud of hair and not enough money for the Miss Me jeans with the rhinestone pockets.
"Teenagers get really caught up in who's popular," she says. "I felt like I had a lot of problems when I was in high school. Not that I would get into trouble, but I didn't have a lot of friends. Emotionally it was hard. Kids are so mean in high school. So I decided that it would be best if I got my GED and started working."
Her 27-year-old self would tell her 16-year-old self to stick it out. And that's precisely what she said to every Kenyan girl in every school that she and a group of George Fox nursing students visited – with compassion, understanding how all-encompassing difficult situations are in the moment, but also with the conviction that comes with hindsight. As a junior in high school, she could not imagine tolerating one more year. And so she quit.
"My mom was really disappointed," she says. "My mom went only to sixth grade. She understood how hard it was for me, but she really values education, so it was the hardest on her."
Despite dropping out of high school, Gonzalez was not idle. Her parents raised her to work hard and save money, so she got her GED and began as a cashier at JCPenney. As soon as she turned 18, she took a job at Salem Health, handling patient registration. That's when her own mom came in as a patient – in a lot of pain, with unknown severity.
"I was so worried, and that was one of the most horrible feelings I've had, feeling like I didn't understand what was going on, and feeling like I was helpless in the situation," Gonzalez says. Her parents spoke English, but they didn't know the medical world or health insurance. The family felt lost and scared.
"There was one day that I crawled into her hospital bed, and I was hugging her, and I told her, 'Oh Mom, I don't want you to die.'"
Tears start immediately as Gonzalez remembers that day, years later. But while the doctor seemed brusque, the nurse assigned to them took a personal interest.
"I felt like I could really trust her, leaving my mom there," she says.
Gonzalez doesn't even remember her name, but that nurse shaped her future. One year later, she entered Chemeketa Community College for her nursing prerequisites, and in 2022 transferred to George Fox as a sophomore nursing student.
"I really like to be there for people who feel like they need it," she says. "That personal interest she showed in my family and me – even now, it has a really deep impact on us."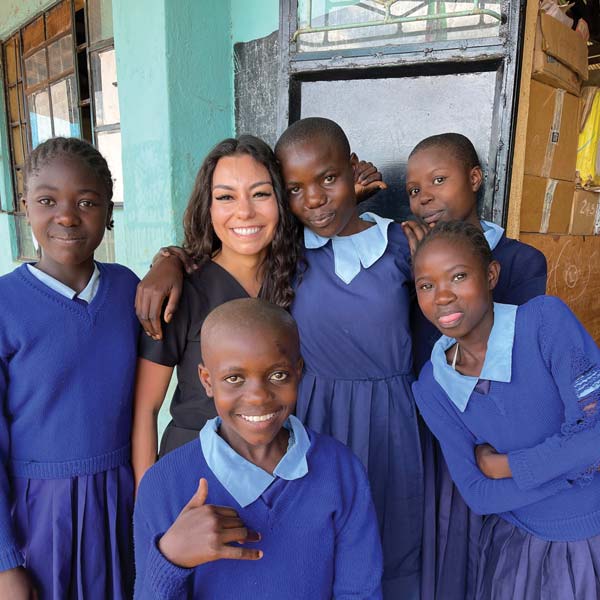 Determined
Gonzalez remembers the frizzy hair, the loneliness, and the lost feeling as she teaches and plays with the Kenyan schoolgirls. "I'm grateful for going through that, because it made me a stronger person now," she says. "It gave me some humility that I'm able to carry over now. I have an interest in people who are in the background. People like that go through a lot that they don't voice, and you don't know unless you get to know them. I would say the girls there are the strongest I've ever met, with some of the things they've had to deal with."
Last year was not the first time George Fox nursing students visited Kenya, partnering with the Kenyan organization Marafiki, Swahili for "friends." But it was the first time they focused on health education – menstrual cycles, hygiene, the right to say "no" – rather than treating patients, trying to reach beyond immediate needs and shape this generation. Gonzalez found she has a gift for addressing hard topics and saying things people don't want to hear.
"I have an interest in people who are in the background. People like that go through a lot that they don't voice, and you don't know unless you get to know them."
"Reflecting on things I was told when I was younger helps me to more carefully pick my words, especially where people may think they're being personally attacked," she says. "I think, especially in healthcare, you have to have difficult conversations. The initial emotions behind that are not always accepting; sometimes it comes off as angry or confrontational. So you just have to have a calm demeanor, to pick your words carefully, to try and touch that person's heart and get the message across that you need to."
Gonzalez likes who she's become. She was the only first-year nursing student accepted on the Kenya trip. She's working at both Salem Health and Providence Newberg Hospital as a certified nurse assistant while studying to be a registered nurse.
Tucked inside the clear cover of her phone, she has a note from one of the schoolgirls. Invited to write anonymous questions to be answered by the nursing students, one girl wrote, "I want to be you."
"It's sad to think about someone wanting to be you, but whenever I feel like, 'Nursing school is so hard. How can I do this?' I remember I'm in such a fortunate position."
Gonzalez will return to Kenya this summer. Whether there, or translating for a Spanish-speaking family in the emergency room, or calming a nervous patient awaiting a blood draw, she is determined to show people they are not invisible. They matter in a culture that may want them to blend into the edges. They have a voice.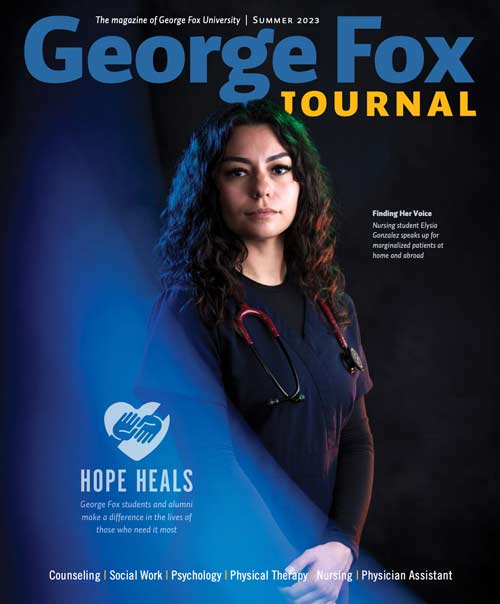 Looking for more?
Browse this issue of the George Fox Journal to read more of the stories of George Fox University, Oregon's nationally recognized Christian university.