Students in George Fox University's Servant Engineering program design solutions that lead to a better life – one human at a time By Jeremy Lloyd
Brandon is 19 years old. He likes to play video games, make fried Oreos with his foster care provider, and go to the movies. His favorite character? Iron Man.
Brandon also lives with cerebral palsy, which makes it difficult to manipulate objects with the fingers on his right hand. A surgery that fused the bones in his wrist further complicates matters, making daily tasks that require the use of both hands nearly impossible.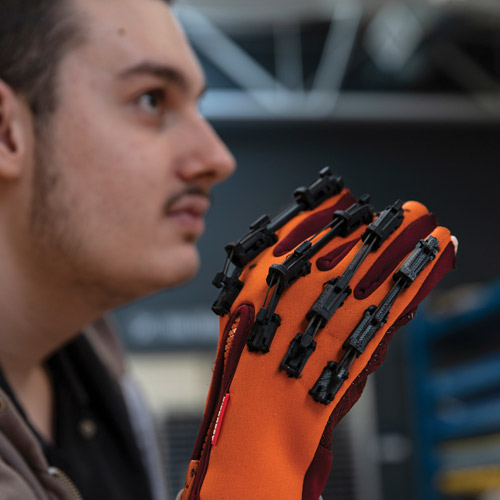 That's where the "gauntlet" comes in. A synthetic fiber glove married to a tension-assisting exoskeleton strengthens Brandon's finger movements, allowing for greater extension. As a result, he can use both hands for his favorite activity, video games, and much more.
The gauntlet is hand-sewn and 3D printed – the outcome of months of trial, error, research and observation. It's a one-of-one design, much like Tony Stark's first Iron Man prototype. And when Brandon wears it he feels like a superhero. Or, in his own words, "awesome."
The Servant Engineering team at George Fox University wouldn't have it any other way. Because it's not just about the device – it's about the human wearing it.
Established in 2010, Servant Engineering is a required course for all junior engineering and computer science majors. Some projects seek solutions to greater humanitarian needs. But in many cases, such as Brandon's, students are paired with a single "client." One team of student engineers. One faculty advisor. One full academic year.
At any given time more than a dozen projects are in motion. A postural assist device for students at the Oregon School for the Blind. An accessory that allows a client with hemiplegia – a condition that prevents the use of half his body – to use a wheelchair. A series of solutions for a young girl with a rare genetic disease called Bruck syndrome to independently eat, clean her teeth, and use a computer mouse.
In each case, the process begins with a simple but powerful concept: human-centered design.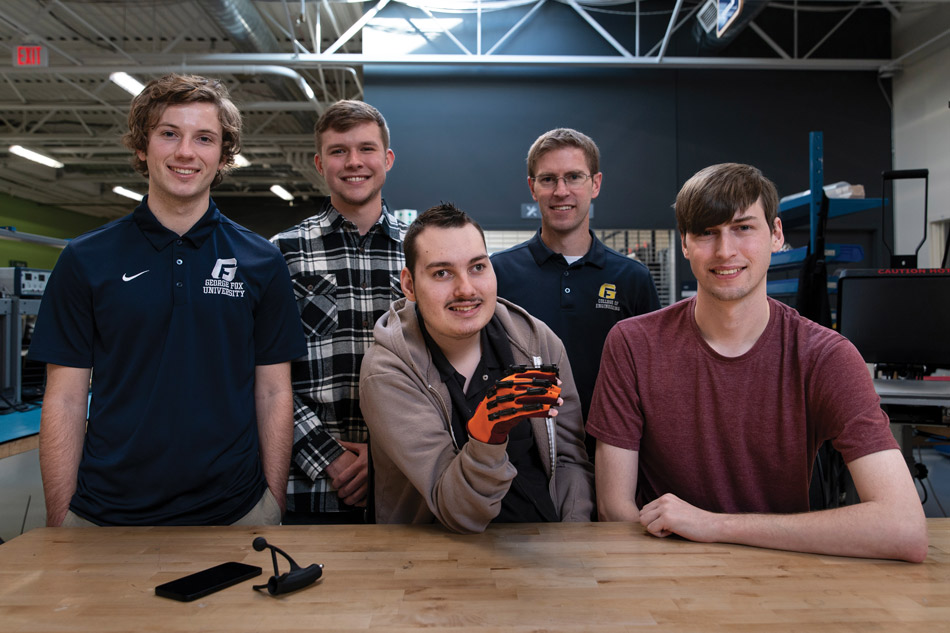 Each one should use whatever gift he has received to serve others, faithfully administering God's grace in its various forms. – 1 Peter 4:10
"In the first three to four weeks of the class, I don't want students to think about a single solution," says professor Todd Curtis, faculty advisor to the team that created Brandon's gauntlet. "I only want them to understand the problem, to get to know the client, to empathize with the client."
In the case of Brandon, who sometimes has trouble articulating his needs, that meant hours of observation – and some creativity. "Part of the process of project discovery is what we call empathy exercises," Curtis explains. So, student engineers taped a sock over their dominant hand for a weekend to experience what it's like to live without the use of their fingers.
Just as important, they took the time to get to know Brandon as a person. "At first we looked at devices to help Brandon in the kitchen," recalls senior Dawson Willems. But that didn't spark much excitement. "Then one day we discovered that he really enjoyed playing video games."
Brandon loves tech, from his PlayStation to his tablet and smartphone. "Our goal was to simply get him using his right hand a little bit more," explains Willems. "That way some of the muscle atrophy could hopefully over time be reversed." And so the solution became clear.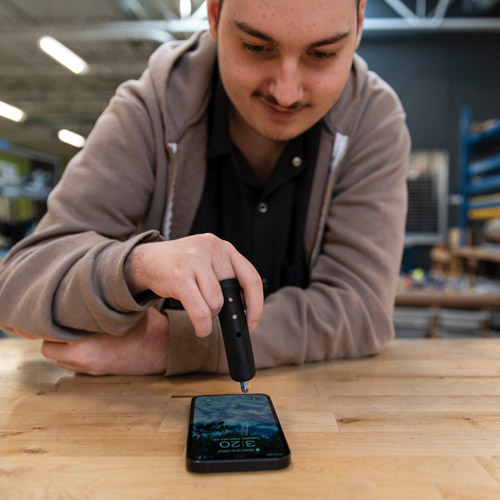 In addition to the gauntlet, they created a specially designed stylus that allows Brandon to use a computer trackpad or tablet with his right hand. Both solutions help Brandon live a better life while over time strengthening his hand.
But the Servant Engineering program benefits more than just the client. Willems' ability to articulate what he learned over the course of the project helped secure an internship with Intel, with a possible full-time offer forthcoming. Wherever he lands, the lessons he learned from Brandon will last a lifetime.
"Using your engineering skills to help real people, to solve open-ended problems, is something you can only learn by doing," Curtis says. "These experiences are priceless for our students."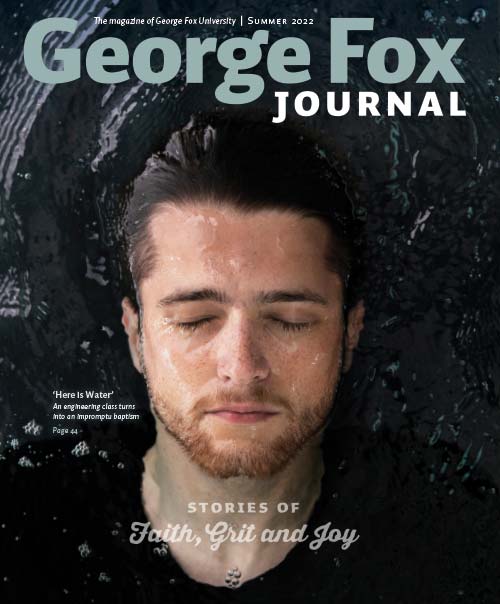 Looking for more?
Browse this issue of the George Fox Journal to read more of the stories of George Fox University, Oregon's nationally recognized Christian university.