'God is always going to be there'
stories of Faith, Grit and Joy
Anthony Pasion
By Jeremy Lloyd It was 2019 and Anthony Pasion was living his dream playing college football. Then a sophomore defensive lineman on the George Fox football team, he earned All-Northwest Conference Second-Team honors and was coming into his own not only as a player but as a person.
"Being on the football team has been the best time of my life," he says. "Just being able to have guys that are brothers and going to be lifelong friends, that's the biggest joy I've had since being at Fox."
Then, in an instant, football was taken away.
"My vision started going blurry, and I wasn't really sure why," Pasion says. "I ended up going into OHSU and they found out I had this thing called optic neuritis, which is inflammation of my optic nerves."
The cause: an anti-MOG disorder in which the immune system mistakenly attacks healthy proteins in the eye. Pasion first felt the effects in his left eye at the end of his sophomore year, then as a junior in his right eye as well. More trips to see specialists and heavy doses of medication followed.
"I was scared," he says. "I didn't really know what to do, I didn't know what was going on, and I didn't know if my sight was ever going to come back."
Worse yet, in the winter of 2020, at the peak of the COVID-19 pandemic, Pasion's family felt the full force of the deadly virus, as his father, mother and sister all tested positive.
"My mom was in the hospital for two weeks, and then my dad was in the hospital for a month," he says, reliving the horrific experience.
On Christmas day, his father passed away.
"That was the hardest thing I've ever had to go through in my life," he says. "I'm still trying to deal with that every day. I was like, 'Why would God do this to me? Why would he take away my dad?'"
Even though he wasn't playing, Pasion leaned on his teammates, coaches and George Fox family like never before.
Head coach Chris Casey checked in on him "all the time." So did defensive coordinator John Bates. And every week, like clockwork, there was a phone call or coffee visit with campus pastor Jamie Johnson. Then there were his "brothers" on the football team, who rallied around him with friendship and support when he needed it most. During this time, Pasion also palpably felt the impact his father had on his life.
"Even though my dad wasn't there in the present, I always felt him with me," he says. "Everything he taught me, I tried to carry on."
He thought about what would make his father proud: to be a good student, to graduate, to be a good man. And as he slowly began to heal, so too did his relationship with God.
"It was hard to keep my faith at first," he says, thinking back to the darkest times. "But as the months went on, I felt my faith grow stronger."
And after all that was taken away, something was returned: the ability to play football again. A new medication has subdued the optic neuritis, improving his vision and allowing Pasion to return to the field next semester for one last season before the fifth-year senior graduates in the winter of 2022.
"Sports is something that I've loved my entire life," he says. "If I wasn't able to play football again, I'd be pretty devastated. Thank the Lord that he gave me my sight back!"
A business management major who may someday pursue a career in coaching or athletics administration, Pasion now looks to the future with a renewed sense of hope and a trust in God that can only be gained through trial by fire.
"Each time I've gone through something hard, I've grown from it, I've became stronger because of it," he says. "The main thing that stands out to me from this experience is God is always going to be there. You may not realize it in the moment, and it may not feel like he's always there, but he's always going to be with you."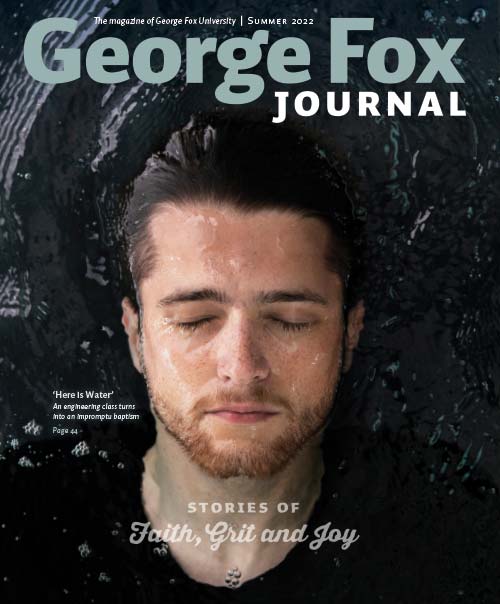 Looking for more?
Browse this issue of the George Fox Journal to read more of the stories of George Fox University, Oregon's nationally recognized Christian university.