Request Info About Teaching Endorsements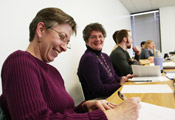 George Fox University offers three special endorsements through the school's Master of Education program or as stand-alone program. Single Subject and Multiple Subject endorsements are available to currently-licensed teachers who qualify. 
Designed for busy educators
Fully online ESOL and Reading speacial endorsements and hybrid SPED special endorsement 
Cutting-edge curriculum that incorporates innovative classroom techniques and computer technologies
Guidance and support from PhD-level educators
A respected degree from a university highly ranked by Forbes and U.S. News & World Report
Endorsements

---
George Fox is one of only seven institutions in Oregon with national accreditation of its education programs.
The following endorsements are intended as add-on endorsements to an existing license and can be completed in one to two years, depending upon the number of courses taken by the student.
Reading Endorsement
ESOL Endorsement
SPED Endorsement
Single Subjects Endorsement
Multiple Subjects Endorsement
Reading Endorsement (15 semester hours)
The reading endorsement program is for classroom teachers preparing for specialized work in diagnosing reading difficulties and improving reading instruction in their own classroom, or as a reading specialist in a school at either the elementary or secondary school level.
ESOL Endorsement (15 semester hours)
The ESOL endorsement program is designed to prepare teachers to provide classroom instruction to elementary or secondary students that are non-native speakers.
SPED Endorsement (25 semester hours)
The SPED endorsement program is a practitioners program. Each course is organized to provide the pre-service and in-service candidate with hands-on SPED training and quality classroom learning experiences.
Other Endorsements (credit hours vary)
We offer the option of adding both the Single Subjects Endorsement and the Multiple Subjects Endorsement to an existing license for currenlty-licensed teachers who qualify. Contact us to learn more about these additional options.
Want to become a licensed teacher? Check out our master of arts in teaching program that prepares PreK-12 teachers for public and private schools.
Need a bachelor's degree in elementary education?
George Fox offers an evening degree-completion program for adults who want to earn a bachelor's degree in elementary education.
Interested in furthering your professional development as a teacher?
Check out our master of education program, designed to fulfill the needs of educators who specialize in different aspects of PreK-12 and higher education.
Learn more about our administrative licenses or our endorsements.
Want to know more? Have questions about our program? Let us hear from you!

Loading...