University Innovation Fellows Program
The University Innovation Fellows program is a national movement to ensure that all students gain the necessary attitudes, skills and knowledge to compete in the economy of the future.
Who are University Innovation Fellows?
University Innovation Fellows are student leaders from schools nationwide who create new opportunities that help their peers develop an entrepreneurial mindset, build creative confidence, seize opportunities, define problems and address global challenges.
In all, nearly 300 fellows at 115 schools collaborate with faculty on new classes, creating student makerspaces, hosting events and workshops, founding clubs, and providing opportunities for interdisciplinary collaboration.
How are fellows selected?
Fellows are sponsored by faculty and administrators at their schools and selected through an application process each spring and fall. After being accepted to the program, candidates take part in a six-week, online-based experiential training, where they connect with a national network of fellows, examine their current entrepreneurial ecosystems, formulate action plans, and begin to implement their ideas.
The program is run by the National Center for Engineering Pathways to Innovation (Epicenter), funded by the National Science Foundation and directed by Stanford University and VentureWell.
The UIF Program at George Fox
George Fox students Drew Camp, Keiko Fujii, Michael McCleskey, Dieter Mueller and Bryan Neufeld were the first George Fox students trained as University Innovation Fellows. The student group named themselves SIDE ("Students for Innovation, Design, and Entrepreneurship").
The George Fox team, sponsored by the College of Engineering, was comprised of three computer engineering majors (Camp, Mueller and Neufeld), one computer science major (Fujii) and one marketing/entrepreneurship major (McCleskey).
WE BELIEVE STUDENTS CAN CHANGE THE WORLD.

George Fox University has built a renovated 15,000-square-foot makerspace - the Maker Hub. Since this space is designed to encourage innovative and entrepreneurial thinking, the George Fox fellows would like to ensure that this new resource be used to its fullest potential. Secondary to that goal, interdisciplinary projects will bring the university's community together to produce innovative products.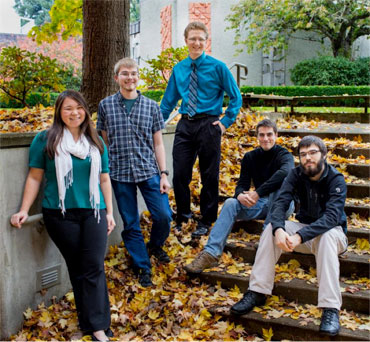 The first George Fox UIF team, from left, Keiko Fujii, Drew Camp, Bryan Neufeld, Michael McCleskey and Dieter Mueller.
How Do I Get Involved?
Students who wish to apply for the program will please contact professor Neal Ninteman at nninteman@georgefox.edu or 503-554-2714 for details.