Donald R. Powers

,

PhD

Professor of Biology

Research Interests
Energetic costs & water regulation of animals, especially hummingbirds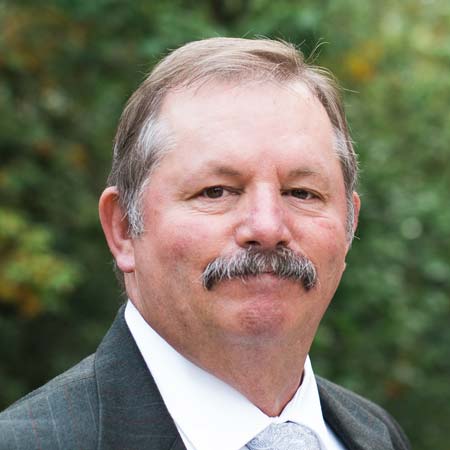 Don Powers joined the George Fox University faculty in 1989 to pursue his dream of helping students understand how Christian faith can successfully integrate with what science has to teach them about their world. He passionately believes that science can teach us a lot about God and that such knowledge should be fervently embraced.
Powers' interest in small university teaching was fostered as an undergraduate at Biola University, where he experienced firsthand the close interaction between faculty and students. His appreciation for a more intimate style of education has not waned over his many years at George Fox.
He has always considered himself a scholar first and a teacher second. That might sound backward, but he truly believes that biological research that has been such a large part of his life shapes many aspects of what goes on in his classroom.
In the end, the time he spends directly interfacing with scientific study gives his courses breadth and depth that they would not otherwise have and allow him to offer students an exceptional educational experience.
Academic Background
BS, Biological Science, Biola University (1979)  
MS, Ecology, San Diego State University (1982)  
PhD, Physiological Ecology, University of California, Davis (1989)
Expertise and Research Interests
In Powers' lab, we answer questions related to energetic costs and water regulation of animals. Most of his work has been on hummingbirds (many species), but he's also conducted research on red-sided garter snakes (Thamnophis sirtalis parietalis) and rough-skinned newts (Taricha granulosa). Much of his work occurs in the field, with primary field sites having been in southeastern Arizona, Manitoba, Canada and Ecuador.
His lab is currently funded to study the physiological response of hummingbirds to climate. These studies  occur at several sites in southeastern Arizona and Ecuador and involve techniques such as open-flow respirometry, doubly labeled water, infrared thermography, and landscape thermal profiling using temperature logging devices.
For a more detailed description of work that goes on in his lab, go to dpowerslab.com.
Current Projects
Powers' current projects include:
Hummingbird flight energetics and biomechanics. This work includes experiments on birds flown in wind tunnels (in collaboration with Dr. Bret Tobalske, University of Montana) and free-living birds both in Oregon and Arizona (in collaboration with Dr. Susan Wethington, Hummingbird Monitoring Network).
Reproductive energetics in red-sided garter snakes (

Thamnophis sirtalis parietalis). Field work for this project is done in Manitoba, Canada, in collaboration with Dr. Robert Mason from Oregon State University.

The role of aquaporin water channels in cutaneous water absorption and water regulation in rough-skinned newts (Taricha granulosa). Upcoming experiments include distribution of water channels in tissues in aquatic vs. terrestrial acclimated newts, studies of water uptake and water loss, and exploration of signaling pathways involved in regulating water channel insertion into cell membranes of tissue surfaces. This work is being done in collaboration with Dr. John Schmitt (George Fox University).
Select Research Bibliography
For a list of publications, most of which can be downloaded as PDF files, go to dpowerslab.com/publications.
Primary Teaching Responsibilities
BIOL 300 – Evolution  
BIOL 333 – Advanced Physiology  
BIOL 360 – Ecology  
BIOL 380 – Ornithology  
BIOL 490 – Biological Explorations
Outside the Classroom
Powers has been married to his wife Theo for 35-plus years and does not regret a minute of it! They have two grown boys and an excessively loveable golden Labrador retriever named Zoie. He loves the outdoors, so it is not uncommon to see him and Zoie taking long hikes at our local state park, rain or shine.
He is an avid birdwatcher, so binoculars are standard equipment for him wherever he goes. Photography is a passion, and both staff and students in the department know where to go when they need a picture of something.